Mirjam Müllen
Social Work B.A., systemic counsellor, trainer for anti-racist youth work for girls* (in training)
Pronoun: she

Work Areas:
- team leader, coordination & applications
- counselling
- facilitation of "Mädlz*abend" (Girlz*Night) and "GAP für Alle*" (GAP for everyone*)

Who am I?
When I'm not working at the GAP in Bonn, I like to cook for hours because I find it extremely relaxing. My biggest dream is to travel the world with my wife and our two children in a trailer/ caravan or to cross the Alps on a mountainbike. I love to sing (even though it sounds horrible) particularly under the shower or in the car. I also love spend long summer nights with friends.
LeeWang, Ching
MBA Cadidate in CSR & NGO Management
Pronoun: all of them

Work Areas:
- facilitation of the B_PoC-evening and of the "Refugees/Racism/Diversity Club"
- networking with empowerment structures and organizations across NRW

Who am I?
Cat person. Introvert. I like singing, sewing, cooking and eating.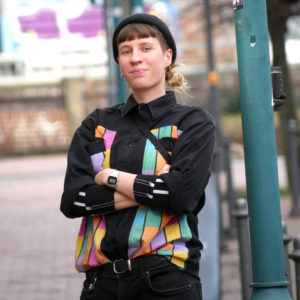 Jules Starke
Studies Social Work
Pronoun: they/ them

Work Areas:
- facilitation and organization of the Enby Projekt/ Nonbinary Evening

Who am I?
Good question!!! What I like: Building and working with my hands, listening to an playing music, being outside and moving around, reading, debating and queerfeminist selforganizing. The only thing that I like more than DIY is "Do It Together"!
Suliman, Mohammad Nour
Studies Social Work
Pronoun: they/ he

Work Areas:
- facilitation of the regular workshop "AG Racism, Diversity, Refugees"

Who am I?
Spirt animal duck, loving Anime, love languages and food, extrovert, reading, music, singing…